Custom Ferrules
With our manufacturing capabilities, we can create custom ferrules specific to your application. We can customize all of our graphite, vespel, and teflon ferrules. J...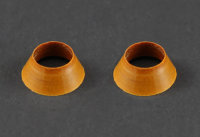 5/1/2019
We have Grace and Alltech Consumables
If you found yourself in the dark after Grace decided to stop selling chromatography consumables like graphite ferrules, vials, caps, septa, gas purifiers, and inlet ...

3/11/2019